Programe-9XM brief description : + The Street lineup ( ST ) features a less aggressive and better ground clearance design. Suited for normal customer who wants abit more styling for their car without sacrificing the daily driving ability. + The GroundZero lineup ( G0 ) features a more aggressive design and offering a ground effect kits to gives the car a more ground hugging exterior.GroundZero lineup are suited for customer looking for a more aggressive styling and don't mind the downside of having a ground hugging kit. + All products are made using VIT ( Vacuum Infusion Technology ). + All CF finish products are sold as Limited Edition product. + All CF finish products comes with a folder with : A authenticate card,installation menus,certificate w/serial no,stickers. + All products comes with all needed installation hardware.
---
Vorsteiner's brand and root foundation is built upon building nothing but the absolute highest quality parts for the most discerning clientele. Our relentless pursuit of advancement and perfection can be clearly seen through our parts and our staff. Our brand is the embodiment of Vorteiner and its cars, reflecting the aesthetic beauty of technically advanced solutions and the very soul that comes from hands that create purely sensational parts.
---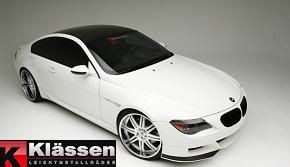 With over 15 years of experience in the automotive industry Klassen brings wealth of knowledge and history into each of its products. Engineered and designed with both performance and style Klassen utilizes classic wheel design along with sophisticated proprietary forging process to provide the best all around multi-piece wheel available. Engineered using the latest CAD/CAM and FEA software technologies, coupled with tight machining tolerance and precision, Klassen has set the new standard in modular wheel quality. One of the few wheel comapnies that meets both JWL and TUV standards. Klassen brings attention to detail and unmatched fitment and finish to the wheel world.
---
Trinity Autosport *NEW* 20W Angel Eyes. Just released, you can purchase the 20W ERROR free Angel Eyes for LCI E60's for $199.00. These Angel Eyes are equipped with a Lifetime Warranty. Be sure to check these out in our lighting section under E60 of our catalog!
---